One of the things that I learned along my personal brand journey was that the people who dare to dream and work towards those dreams with daily action, eventually create the life they want.
It's really that simple.
When done correctly, your personal brand journey actually becomes your personal brand strategy. It's who you are, where you're headed, and how you plan to get there. Your strategy will help you define your brand and help guide you on how to manage your marketing efforts and determine success.
But you can't become what you can't envision. So, before anything else, you need to envision where you want your life—and personal brand—to be. Then, you can get started on creating your personal brand.
Does that sound complicated? I promise it's not.
Here are the six things you really need in order to start your personal brand.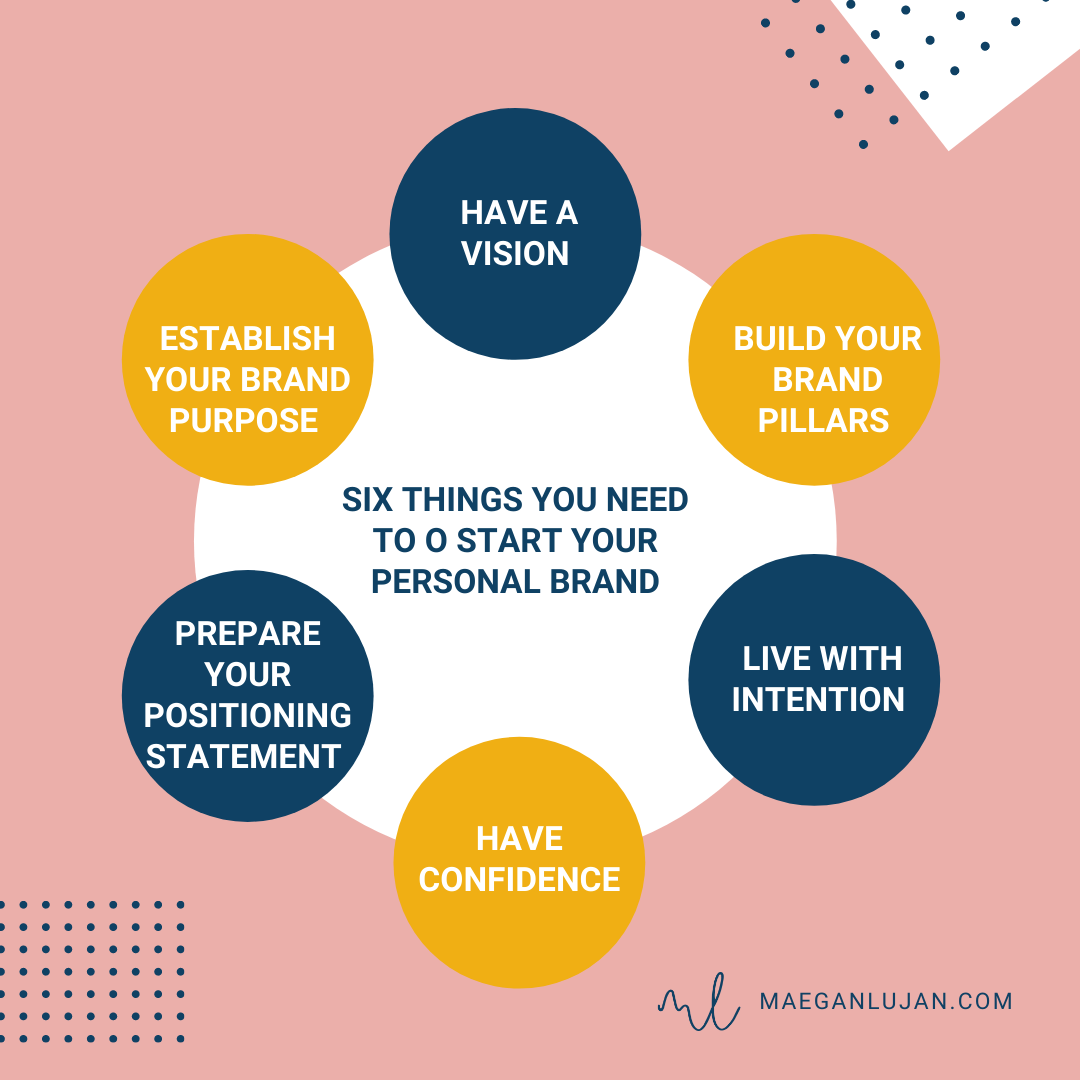 Have A Vision
You can't become what you can't envision.
Before you spend even one second creating your personal brand, you first need to envision where you want your life to be. Picture where you live, how you dress, what your career looks like.
Then, start to make small adjustments to make your reality look more like the future you envision.
Establish Your Brand Purpose
Next, you need to define your brand purpose.
Why do you do what you do? It shouldn't be about making money. Rather, the answer to this question should lie with the reason you exist.
This is your purpose, cause, or belief.
Spend time thinking about how do you do what you do. What are the things that make you special or that set you apart from your competition?
Knowing these is key. This is your process. Your secret sauce.
Finally, think about what do you do. It can be the actual things that you do, the products you sell, or the services that you offer.
This is your passion. It's what drives you and keeps you going.
Build Your Brand Pillars
Brand pillars are the words that describe your mission, purpose, values, and vision, as well as your tone, look and feel.
If you haven't spent any time analyzing your mission, or your why, belief, and culture, now is a perfect time.
Do you know what your value statement even is? If so, write it down and carry it with you everywhere. If not, put pen to paper—or fingers to keyboard—and write yours down. Can you clearly explain your purpose and how your offering will solve your target audience's problem?
Having this information committed to memory and ready to go at a moment's notice will serve you well.
Prepare Your Positioning Statement
A positioning statement explains your purpose. It also explains how your offering will solve a problem, in your brand voice. Remember your secret sauce from above? This is how you'll share it with people.
Make sure you spend extra time crafting your voice and tone to establish the credibility of your vision, purpose, and positioning through communication. The tone of your communication is just as important as the method of communication you use. Even if your communication method will vary across digital platforms.
More than anything, your personal brand is an emotion and a feeling. It's the perception of you that you own, craft, and communicate. For this reason, be intentional as you move forward with the look and feel of your personal brand.
Live With Intention
Once you have your vision set, you'll start to know the path you want to be on. It's at this point where you'll be able to live everyday with intention. And living with intention is crucial to building a solid persona brand.
Ask yourself: What parts of your story are you telling? What messages are you sharing over and over? How are you taking what you've been given and using that to rewrite the story people associate with you or your brand?
You should even start using your social media intentionally. Take the time to think through how your story is being told and the image you're putting forth online.
Have Confidence
No matter what point of your brand journey you're on, you've successfully gotten to where you are today because of your past. Not in spite of it.
Tell your story loudly and proudly. Share it in a way that clearly shows how you carved out success and built something incredible for yourself.
Tie It All Together
How can you go about tying this all together without feeling overwhelmed? By making a mood board.
Yes, even if you feel you're not the mood board type of person.
A mood board is essential to helping you visually see what you want your personal brand to look like. It also is a valuable resource any hired design resource will need to bring your branding vision to life.
The goal is to complete your mood board using examples that are in alignment with the work mentioned did earlier. Remember, your personal brand is more than a fancy logo or appealing color palette. Your personal brand is about who you are and what you do.
If you get stuck, and need some inspiration, while working on your mood board, my go-to for anything ideation—including business-related visuals—is Pinterest.
Want an expert's help to bring your brand to life?
Get on my schedule by clicking here.