Where and how my vision was born began from seeing a businesswoman at lunch that walked with purpose and confidence, at south coast plaza. The "hope" that I one day never had, was ignited as I began to envision my future life as a businesswoman. I knew that if you can see her you can become her.
As we enter National Business Women's Week, I'm excited to celebrate being a businesswoman, both in Corporate America and as an entrepreneur. And while it feels fantastic to celebrate our individual accomplishments, I think it's even more amazing to marvel at how far women have come since National Business Women's Week was established in 1928. Did you know that 40% of privately held companies are owned by women? Or that they account for $1.8 trillion in annual revenue? I assume that it takes recognition and success to an entirely different level than imagined back in 1928. I couldn't be prouder of what we've accomplished thus far and the roads we've traveled to get here.
With the holiday season upon us and the end of 2020 insight, I've found this year to be quite unique, as I'm sure you have. The COVID-19 pandemic, shelter in place orders, face masks becoming fashion trends, yoga pants replacing the pantsuit, and Haagen-Dazs bars – a lot of them! While that may seem like enough distinction for one year, I'm going to share with you how 2020 specifically has taken my appreciation for National Business Women's Week to new heights.
Last year, I was honored with the nomination of Business Woman of the Year by The Orange County Business Journal. Maegan Lujan, the corporate woman-in-tech at a Fortune 500 company, recognized in a leading business and tech county as a candidate among nearly 200 hundred other wildly successful businesswomen. It was an honor I can barely put into words and a turning point for what has shaped 2020.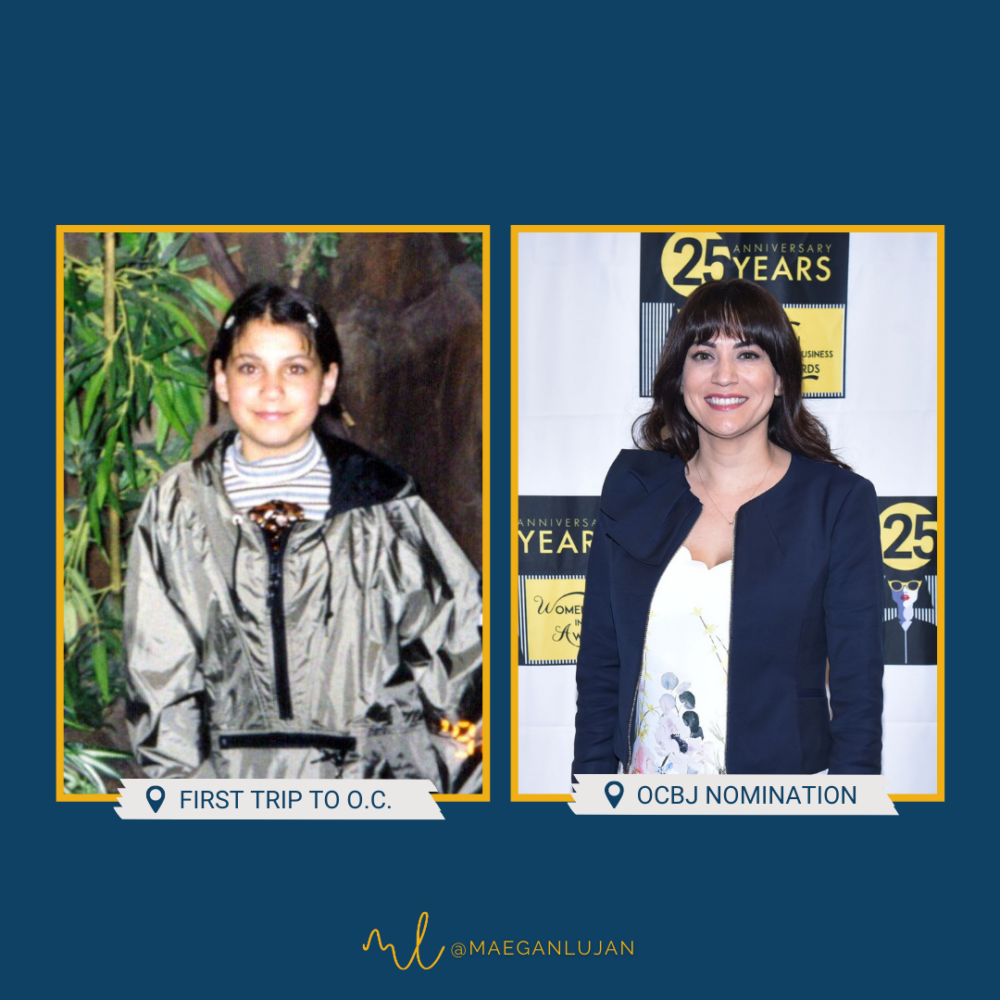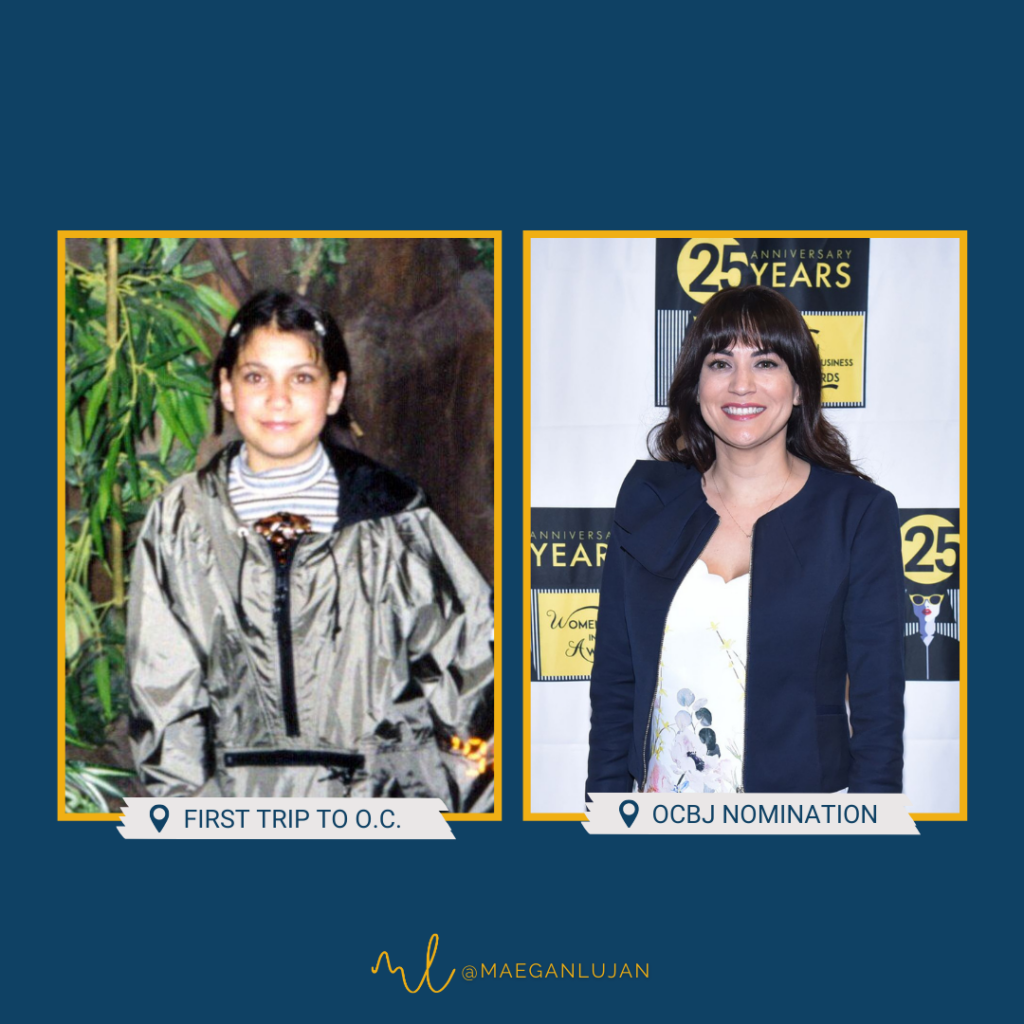 In my soon to be released book, A Million Little Clicks – Brand Vision, I reveal how my California Dream took shape while visiting my grandparents in Orange County during the Christmas/New Year holiday of 1997. The sights, sounds, smells, people, and their energy spawned a desire within me to chart a different path. I wanted to be part of this ecosystem. While it felt surreal to participate in the nominee dinner last year among several successful and inspiring women, something was still missing – MY passion!
It wasn't until I experienced this event with the other amazing women and was able to digest their words of wisdom over the weeks that followed that I realized my passion in the corporate world IS the gateway to my overall vision of inspiring young women to fulfill their dreams. As a professional marketer, branding is at my core. I spent several years developing the product and corporate brands, learning the science and psychology behind branding, and honing my ability to bring a successful brand to life. And now, after years of trying to connect my professional passion with my PERSONAL PASSION, it clicked. Helping others define their vision, tell their story, and essentially find their voice is my California dream come true.
So, how have I spent 2020? Applying the wisdom bestowed upon me from those local women in business last year. I spent thousands of hours reading, researching, and grinding away into the early morning more often than not. Investing countless resources to trial-and-error, refining what works versus what works exceptionally. Learning what it means to truly put it all on the line, taking a huge risk at a small chance to become the businesswoman of my dreams; a purpose-driven entrepreneur living to inspire others. Ultimately, through grace and grit, forming new respect and definition of what it means to be a SUCCESSFUL businesswoman.
While recognition was not a driving force behind my 2020 efforts, The Orange County Business Journal and Toshiba have consecutively nominated me for 2020 Business Woman of the Year. The Irony after such an impactful year warms my heart in ways I cannot articulate. Let's just say it's brought many happy tears to my eyes.
My journey of becoming a successful entrepreneur is far from over. In fact, with each upcoming book launch and blog, the plot continues to thicken. But I wouldn't trade it for anything. And it's for that reason National Business Women's Week 2020 takes on an entirely deeper meaning to me. Not only because my effort this year has been recognized through nomination, but because I once again get to learn from a group of extraordinary businesswomen. I hope that my story, in conjunction with those of so many other amazing businesswomen, inspires you this year more than any other to start turning your dreams into reality!
Not sure where to start? Let me show you. Check out my website for more details on the release of A Million Little Clicks – Brand Vision, the first step, and foundational roadmap to defining your vision, goals, and next steps to success.
References
Bpwfoundation.org. (, 2019). History of Business and Professional Women.
Retrieved from: https://bpwfoundation.org/about/history-3/
Nationaldaycalendar.com. (, 2020). NATIONAL BUSINESS WOMEN'S WEEK – Third Full Week.
Retrieved from: https://nationaldaycalendar.com/national-business-womens-week-third-full-week/