"Going into business without a strategy is like going into the garden without any seeds to plant. Sure, being outside will feel great, but you're not going to grow anything."

– Maegan Lujan
Whether you already have a business or are flirting with the idea of building a personal brand for the first time, developing a successful strategy is crucial. When I set out on the path of writing my book A Million Little Clicks, one of my goals was to pass on to others my 15-plus years of business and experience in Corporate America as it relates to developing a strategic approach.
Why?
Simply put, I noticed a considerable gap in connecting standard branding practices to actual business and marketing principles. How would I fill this gap? By wading through the copious amounts of branding resources I found and by conducting my own research.
By accurately intertwining branding practices with business and marketing principles, you're more poised for success.
Brand Strategy Defined
Your brand strategy is essentially the plan for your brand's expression. Several elements must be taken into account and accurately incorporated into your strategy to realize long term success.
I know this sounds like a lot and you may feel a little overwhelmed. But don't fear, I'm here to guide you through this journey step by step.
Here's a visual excerpt from one of the chapters in A Million Little Clicks, which outlines each step. As you can see, we take a deep dive into each one so you can accurately define and execute them.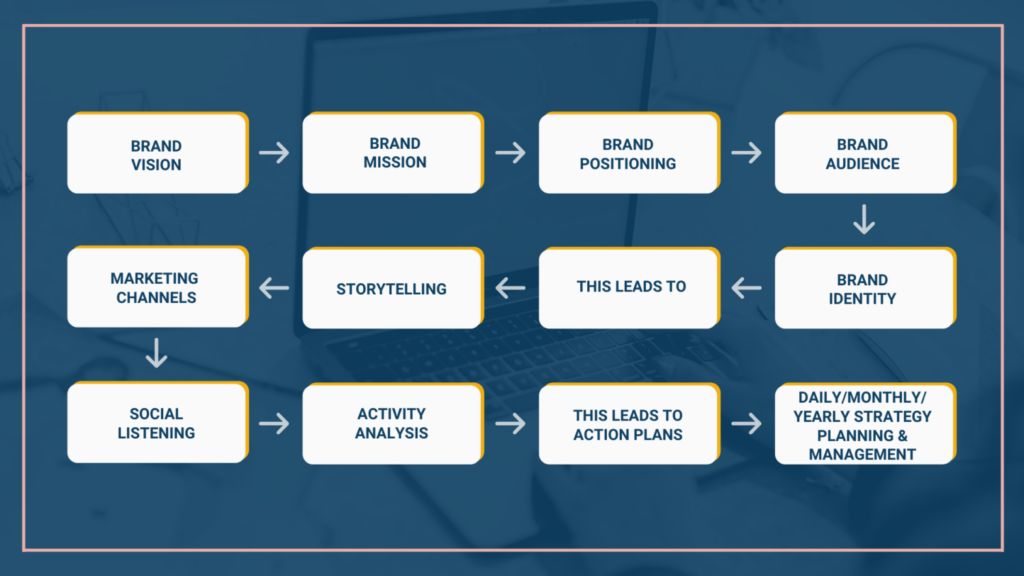 Each step is important. Remember, you want a brand that is uniquely you.
"I don't want to be the next Michael Jordan, I only want to be Kobe Bryant."

– Kobe Bryant
Personal Brand Strategy Defined
To build a remarkable brand, you need a brand strategy. For Kobe Bryant, his strategy was brilliant yet simple: be himself.
A personal brand strategy defines who you are, where you're headed, and how you plan to get there. Kobe harnessed who he was, both good and bad, then relentlessly built upon that over 20-plus years. We saw him win and lose, grow and mature, fail, and realign, all of which played into his strategy perfectly. He had a vision that developed organically over time, and his strategy paved the way from there.
As I mentioned in my last blog, 2020, and the pandemic has caused a significant shift in how perception forms. Now more than ever, showing up digitally is key to properly representing yourself and your brand.
With the overwhelming number of digital touch points out there, your personal brand strategy will be the foundation for successful execution. It will serve as a roadmap, so to speak, that keeps you heading in the right direction.
To help you on this journey, I have created a simple branding checklist so that you can:
Define your goals
Differentiate yourself
Be authentic
Be consistent
Identify your strengths
Grab yours here: Personal Brand Checklist